October 2017 marks the publication of a new two-volume work under the prestigious 'Oppenheim' banner, Oppenheim's International Law: United Nations. It traces the evolution of the United Nations and the legal issues it daily faces. It is also an essential tool for practitioners as they address the legal problems of today at the United Nations.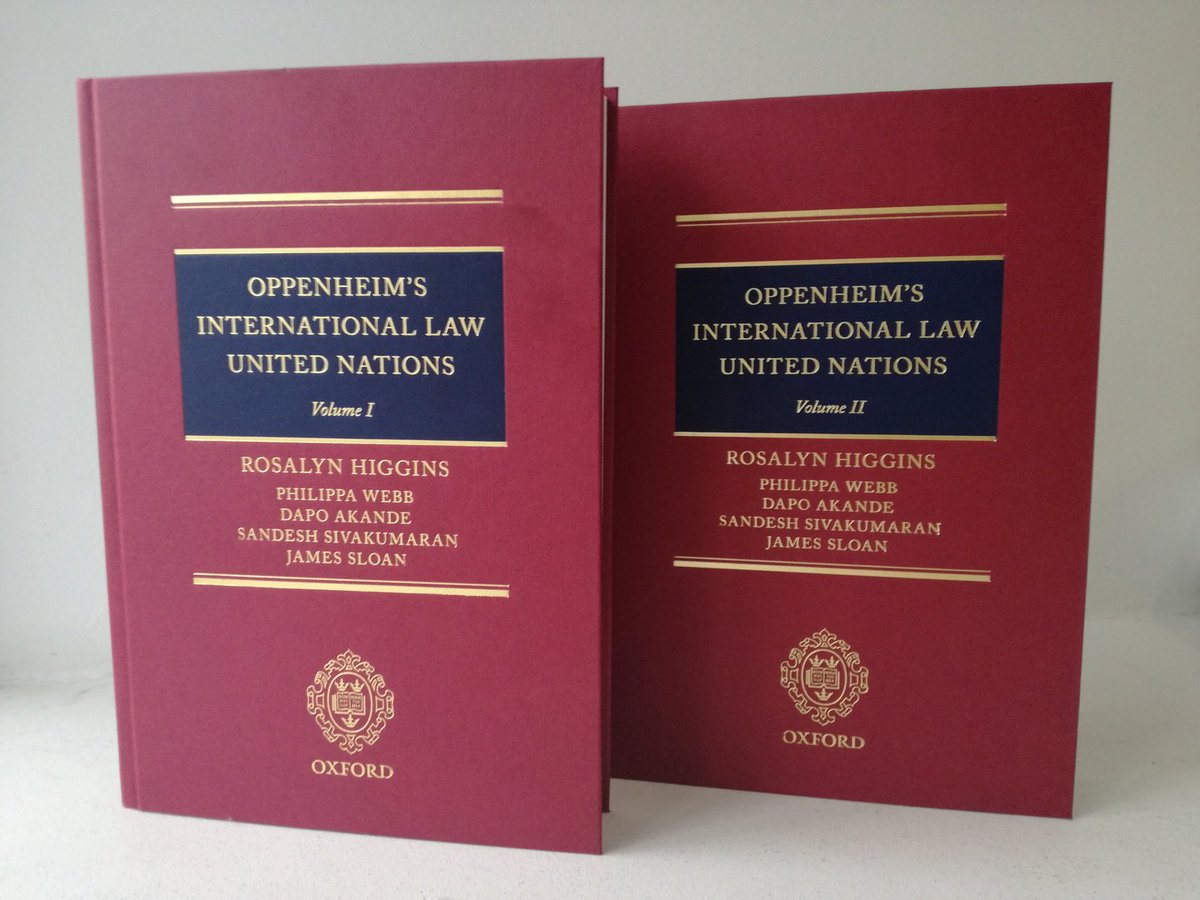 In 1992, Sir Robert Jennings and Sir Arthur Watts, to great acclaim, had published the 9th edition of Oppenheim's International Law, Volume I: Peace. It had taken them long years to prepare. The eighth edition, prepared by Sir Hersch Lauterpacht, had been published in 1955.
In 1994, I received an unexpected letter from Sir Robert Jennings and Sir Arthur Watts. In it they informed me that in the Preface to the 8th edition of Oppenheim, it had been envisaged that one day a volume of that great work would need to address the new phenomenon of international organizations. A new volume would be required for this work, which they invited me to undertake.
I was, of course, hugely honoured by this invitation, though I realised from the outset that the amount of work it would involve was enormous. I was at that time Professor of International Law at the London School of Economics and Political Science, in practice at the Bar as a silk, and a member of the UN Human Rights Committee under the International Covenant on Civil and Political Rights. There seemed not a spare moment, and I was increasingly wondering how I could continue both as an academic and at the Bar, and whether one of these strands to my life should go. But this suggestion that I should prepare a new Oppenheim was too great an honour to decline.
Apart from pressures of work and time, there was another aspect that worried me greatly. By the early nineties there were already some wonderful books on legal aspects of international organizations. In particular, Henry G. Schermers' International Institutional Law, seemed to me to have fully covered the ground, in a scholarly and comprehensive way.
Jennings and Watts had a short reply to that anxiety: 'This is not to be a book about constitutions, statutes and rules', they said. 'It is to be about how things really are'. Legal reality, they explained, is what is required for a practitioners' book – and what has distinguished Oppenheim from other legal texts is that it is a practitioners' book (albeit of interest to academics).
During the next weeks, I worked on an extensive and detailed outline for a new Oppenheim on International Organizations. Jennings and Watts had some small suggestions to make, but seemed entirely content with my efforts. My anxieties about how on earth this project could be added to an already overfull work life; and whether the ground had not already been sufficiently covered continued to weigh heavy.
And then I learned that Sir Robert Jennings was to retire from the Bench of the International Court of Justice and that I had been nominated by the United Kingdom National Group to this seat.
Everything had changed. And although I now left behind my academic life, the Bar and the Human Rights Committee, there followed fourteen-and-a-half years so absorbing, so very busy, so focused on the expanding docket of the Court and all the issues facing the UN's principal judicial organ, that there was simply no time at all to think about the new Oppenheim.
Sadly, Sir Robert Jennings died in 2004. And by the time I retired from the Court in February 2009, the world of international organizations had simply exploded. There was no way – even leaving aside my concern about the Schermers book, now in its 5th edition under the co-authorship of Niels Blokker – that this seemed a feasible Oppenheim-style undertaking. I shared this view with Sir Arthur Watts. I told him that all that might be feasible would rather be an Oppenheim on United Nations law – and, given all that had happened in the last 20 years, this project would still be a vast undertaking for one person. Sir Arthur was sympathetic and the matter was left open.
Going to the Preface of the 8th edition (having hitherto relied on Jennings' and Watts' resumé as to believe that it was there expressed that there would soon be needed an Oppenheim on the law of international organizations), I discovered a rather different version of events – and one that was much closer to the only option that I now regarded as remotely realistic. Hersch Lauterpacht had there written, '…the present volume includes a chapter in the form of an Appendix covering over fifty pages and entitled "Specialised Agencies of the International Co-operation and Administration". The Appendix gives an analysis, supplemented by bibliographies of the constitutions of specialised agencies of the United Nations and an account of the basic aspects of their activity. The great assistance of Dr CW Jenks was there acknowledged.
In Chapter I, on the Foundation of the Law of Nations, Lauterpacht again referred to all the international activity now being undertaken by the various 'permanent organs and institutions of the League of Nations, of the United Nations, and of the International Labour Organization' (p 12). The explosion of international organizations quite outside the United Nations, which has so characterised the last 60 years, had yet to happen.
I now began to work on a comprehensive new Outline, which would address the law of the UN 'as a reality', rather than the entire vast field of international organizations.
But this field, too, had hugely grown, with the new membership that came with decolonization, the rejuvenation of the UN at the end of the Cold War, and myriad institutional and practical changes as the UN developed and evolved beyond all recognition. So there remained the deeply troubling question of how all this could be realistically prepared, without help, by one person. Even though I had over the years written on various aspects of the UN       , and regularly visited UN Headquarters, and knew the changing staff of the UK Mission and of other Missions, and had always received support from within the Secretariat, the expansion of the UN was such that the task looked impossibly daunting.
I was also acutely aware that there was by the 2000s a world of research methodology entirely different from that which I had myself employed over the years.
So it was still not possible to see a way forward.
And then something remarkable occurred. I learned that I had been awarded the 2007 Balzan Prize for 'International Law since 1945'. This generous prize carried with it the instruction that half of its funds were to be used for the advancement of a research project involving young scholars in the field. It began to feel as if my retirement from the Court was meant to lead to the preparation of an Oppenheim's International Law: United Nations rather than the half-longed for life of cocktails and golf.
I shared the news with Arthur Watts over breakfast at the Hotel des Indes in The Hague. The idea of bringing a handful of young scholars into this project met with his warm approval. I was relieved that we had managed to have this conversation. His unexpected death followed in late 2007 and has been so keenly felt in the world of international law.
The next task was to choose my team of young scholars. I wanted a small team of the 'brightest and the best' young international lawyers, each of whom I knew well and who would be excited to participate in this collaborative work.
Philippa Webb, who had been my Special Assistant and Legal Officer when I was President of the International Court of Justice in 2006 to 2009, was an obvious choice. I had known her since 2004, when she was at Yale Law School and came to the ICJ for a year as a University Trainee, working for Judge Owada and myself. She then took up a post as Associate Legal Adviser to the ICC Prosecutor (from where I persuaded her to return to the ICJ, where she was to play an invaluable role in the President's Office). In the years that followed, she was first a Visiting Assistant Professor at Leiden University and a Legal Consultant, and then came in 2012, as a Lecturer in Public International Law, to King's College London. In 2015, she was made a Reader (Associate Professor) in Public International Law. Dr Webb is also a barrister at 20 Essex Street Chambers. As well as being – like all of the young colleagues – an active collaborator in this book, she took on the role of Project Manager. This has involved a substantial amount of extra work, such as organizing work schedules, liaising with the British Academy (who have been responsible for disbursement of the Balzan Funds), writing to third parties. Her contribution to this project has been both invaluable and essential.
Dapo Akande, now Professor at the University of Oxford, had been a student of mine when studying for the LLM at the London School of Economics in 1993-4. His exceptional abilities were apparent to me already then. He assisted me with some research and, after staying on to teach some classes at the LSE, he became Lecturer at the University of Nottingham in 1998. Two years later he moved, as a Lecturer, to the University of Durham. In 2004 (after some persuasion on my part), Dapo Akande applied for a University Lectureship at Oxford and moved there, holding also a fellowship at St Peter's College. He is Co-Director of the Oxford Institute for Ethics, Law and Armed Conflict and the Oxford Martin Programme on Human Rights for Future Generations. In September 2014, he was promoted to a professorship, where his interests in all aspects of international law (including blogging) are pursued.
I first met Sandesh (Sandy) Sivakumaran when he was my University Trainee from New York University at the ICJ in 2003-4. At that time the General Assembly had not yet granted clerks to the Judges. Our University Trainees performed much the same role for us (though as they were not staff members, certain matters were restricted for them). Sandy Sivakumaran then spent a year working at the ICTY, and then a year at the Lauterpacht centre for International Law at Cambridge. In 2006 he took up a Lectureship at the University of Nottingham and was in this post when our collaborative work began on this project. I had been impressed by his calm, systematic and careful work when a University Trainee at the ICJ and had remained in touch with him when he left. In 2014, he was appointed Professor of Public International Law at Nottingham.
James Sloan was another obvious choice. He too had been my student on the LSE LLM in 1993-4. He made a favourable impression during his time there had I valued his assistance in some research work. Upon leaving the LSE, he did an internship at the Office of the United Nations High Commissioner for Human Rights (OHCHR), and then became the First Law Clerk to Antonio Cassese at a formative time at the ICTY. After a period in human rights postings in Geneva, James Sloan was appointed to a post of extraordinary responsibility for one so early in his career, as Political Adviser to the UN Mission in Bougainville. When the Head of Mission fell ill and left the country for two months, he was Acting Head of Mission. His duties as Political Adviser included advice about a final peace agreement, preservation of the ceasefire and arms disposal issues. He went to the University of Glasgow Law School, being a Lecturer when he joined them. In June 2015, he was appointed to a Chair.
There was initially one more member of our team, Ralph Wilde, a Reader at University College London Law School, as we embarked on our venture. He had been a very accomplished student while I was at the LSE. To my regret, he felt it necessary, for personal and professional reasons, to leave the project in 2012.
All of the work on this project – explained in more detail in the Introduction to these new volumes – has been done while my colleagues have been in full-time employment in their respective universities. They have each had their teaching duties, their administrative tasks, and their own individual research. It has been important to all of us that their major commitment of time and effort to this project should not be to the detriment of their universities or their students.
Following the example of Jennings and Watts in the ninth edition of Oppenheim's International Law, Volume I: Peace, I have seen this new Oppenheim as a collaborative endeavour and not as a series of essays attributed to different authors. At the same time, universities in the UK have to demonstrate high quality research outputs attributable to individual academics as part of the periodic Research Excellence Framework, which determines the allocation of government research funding. There has obviously been a difficult line to draw and I am grateful to all concerned for being willing to walk this tightrope.
The Introduction gives some sense of where each of the team has made his/her major input. But it has been a collaborative endeavour. Our drafts have been circulated among the team and we have met once or twice a year, for a couple of days at a time, to discuss them, to hear comments and suggestions (and offers of assistance for finding this or that). Every chapter in this volume is the result of particular efforts and collaborative improvement and refining. Every chapter has been through at least two revisions. The ultimate responsibility remains mine.
I have been full of admiration not only for all the hard work of my younger colleagues, but also their remarkable knowledge and their impressive research skills. We have also managed to have fun, if not in the preparation of our work, then at our periodic meetings. My hope that I would find a team who enjoyed working together has been fully realised.
Of course, there are very many people and institutions to whom thanks are due. These are mentioned in detail in the Preface.